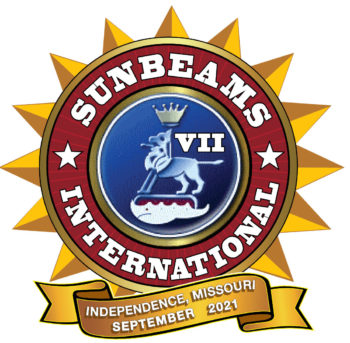 BTW: It's pronounced SUNNY:
Like the weather we hope to have!
It's based on the SUNBEAM marque.
Sunbeams International.
-Tiger Tom Ehrhart
Plans for September 2021
Sunbeams United International (SUNI) has been a tradition, usually every five years, attracting Sunbeam owners from all over North America and beyond. The most recent was held in 2014 in Colorado Springs, Colorado and was a tremendous success, with attendees coming from as far away as Florida, Atlanta and British Columbia.
A group of six Sunbeam owner clubs have been exploring hosting a SUNI VII in September of 2021. Tigers East/Alpines East, Sunbeam Tiger Owners Association, California Association of Tiger Owners, Colorado Association of Tiger Owners, the Pacific Tiger Club and the Sunbeam Alpine Owners Club of America.
In order to avoid conflicting with the proposed event, the clubs have agreed to not hold customary annual events in 2021, such as Tigers United, and TEAE United if a SUNI is organized.
What's happened
Last June, the clubs conducted an online survey to gauge interest in a September 2021 in a southwestern Missouri location near the middle of the country. Response was exceptionally positive, with many checking the "can I sign up now?" box. This gave organizers confidence to begin planning.
Since that time, the COVID 19 pandemic has impacted plans for group gatherings. C.A.T. has postponed Tigers United until September and may have to cancel it altogether. Tigers East/Alpines East is also facing postponement for the rest of this year. Obviously, health and safety are the most important priorities as our clubs deal with the uncertainties of how and when to return to activities.
Cautious Optimism
We are cautiously optimistic that a gathering will be appropriate by September of next year. Some good news is that hotels and other venues are extremely eager for our business and are offering very attractive prices. And because auto enthusiast activities have been curtailed this year, interest in a future SUNI should be stronger than ever.
In order to appropriately reserve rooms and manage negotiated costs at the lowest rates, contracts must be finalized and signed soon. The six Sunbeam clubs will need to share financial responsibility to make this event happen. This is a significant financial commitment and potential risk. Therefore, it's very important to know the level of serious interest in attending.
Please note:
Planning for this event is completely based on the assumption that by September of 2021, we will have been vaccinated and/or that it will be safe for seniors to travel by car to Independence, perhaps with some minor restrictions.
If it is not safe by then we will either reschedule or cancel.
If you register and pay and the event is canceled, your registration fee will be refunded. However, you will have to separately cancel you hotel reservation
What: Five-day agenda
Monday thru Friday
To include Concours d'Elegance, hospitality suite, parts swap, driving tour, guest speakers, autocross, BBQ, award banquet and free time to explore the area or catch up with friends.
The schedule is posted here. Updates will be made as details are nailed down.
Where: Hilton Garden Inn, Independence, Missouri
Unfortunately, the original location proved to be missing some important options for the event. The new location, in the Kansas City area, is central to the continental U.S. with major airport access, good food and attractions, and a roomy autocross site.
Hotel reservation info is available here
Speakers and Attractions
Sunbeam race driver Rosemary Smith and former Rootes engineer Mike Jones are lined up as guest speakers. As in the past, overseas attendees from the U.K. and elsewhere are expected at this international gathering.
Attractions include Truman Library, National WWI Museum and Memorial, Steamboat Arabia Museum, Airline History and TWA Constellation Museum, Union Station and, of course, K.C. barbecue.
When: September 13-17, 2021
Reduced crowds and traffic after Labor Day, generally good weather in most of the country. Kansas City average high 80, average low 58. Well past usual tornado season.
Rally and Autocross
The Kansas City Metropolitan Community College runs an expansive vehicle dynamics, police and fire training facility, available for autocross, and provides cones, covered picnic tables and porta-johns. Plenty of country roads and byways around local lakes and along the Missouri River.